Community Gabfest: Blended Learning *Aspirations
On January 12, 2023 AlphaPlus hosted another in our series of Community Gabfests.
We started by asking people to share the things that they were proud of from 2022.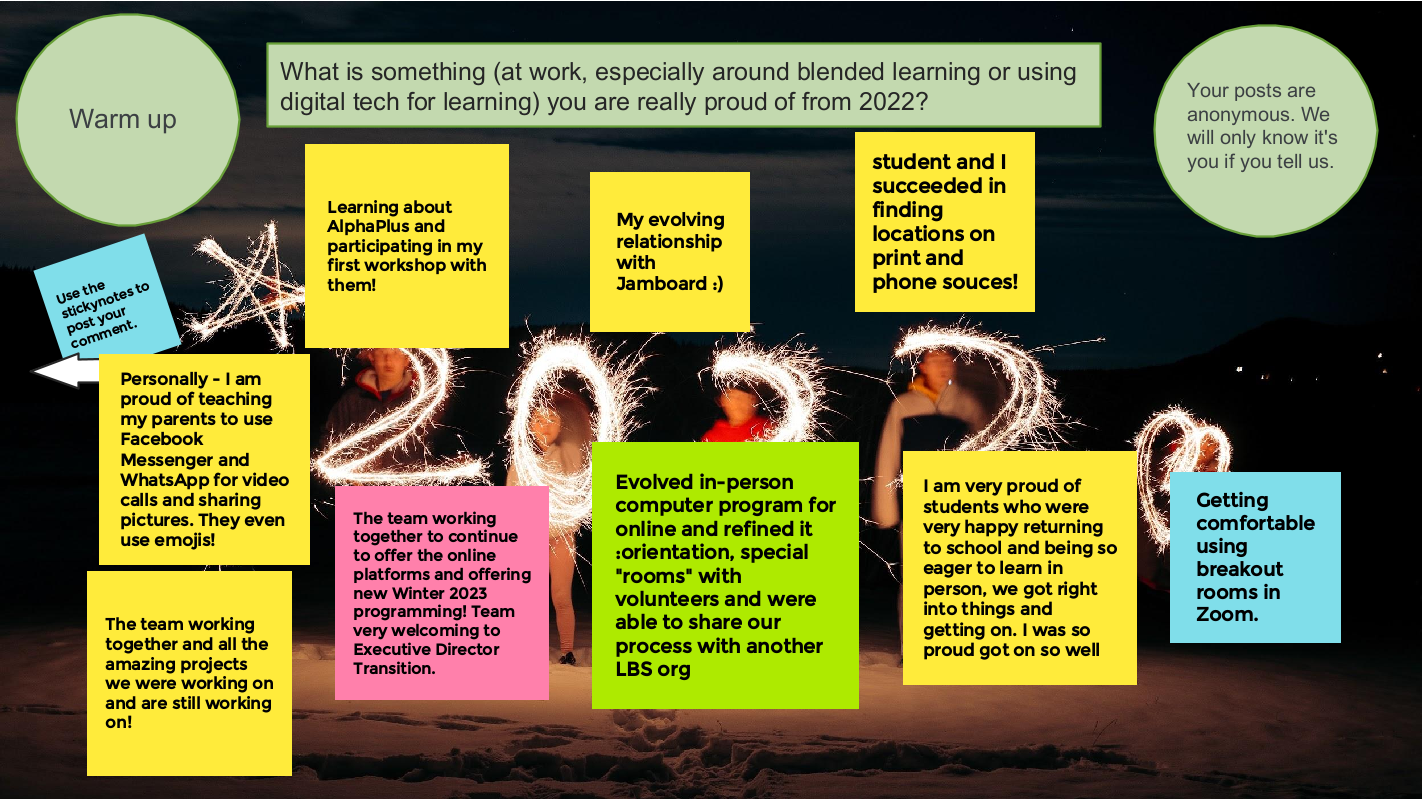 The conversation starter is: New Year's Blended Learning *Aspirations
We talked about
what is going well
what we are proud of from 2022
what we want to try next
who / what could help us
*not Resolutions – the things that are still in dreams, wishes and ambitions phase of planning.
We had a an amazing conversation about
what went well in 2022
the specifics of what it means to start where learners are at when we include digital technology as part of that
the challenges of supporting learners and reducing barriers to learning in the marketplace of apps and devices
what educational technology we are using and how it is working
we shared ideas about what technology we want to use and people in the group who were already using that technology shared their expertise

Smartboards and hyflex and hybrid learning – where some learners are in the bricks-and-mortar classroom and some are connecting remotely – and how people are making it work

bite-sized learning and byte-sized learning (examples: Skillswise and Rumie)
the AMAZING Metro Toronto Movement for Literacy Smartphone project
the changing definition of blended learning and how do we know we are doing it
how to create independent learning modules, or bytes, in an emergent curriculum context and could H5P be part of the solution
who used the Winter Break H5Ps in their class 🙂
It was inspiring and interesting.
We wrapped up by thanking each other for their contributions and generosity.
It is amazing to work with people on their learning adventure!
Thank you so very much everyone. Your inspiration is great!
Thanks so much for sharing all your wonderful information
Thank you for inspiring us!
Thank you for the excellent ideas and resources!