Learning Together with Technologies: Illustrative Case Studies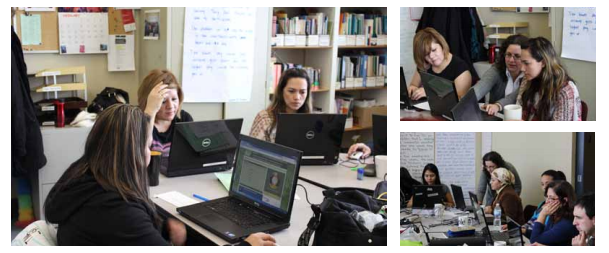 A report on a short-term project conducted in partnership with four self-selected, community-based, adult literacy agencies in the Greater Toronto Area (GTA).
Although over the years we have worked closely with many adult literacy programs across the province, we wanted to look more closely at the realities of using digital technologies for adult literacy teaching and learning.
Specifically, we wanted to:
see how a program uses, works with and integrates digital technology in adult literacy programming
explore how programs are actually using digital technologies and e-learning (We define e-learning as teaching and learning with digital technologies)
learn about the opportunities and challenges that programs face so that we are better informed and can more closely align our services and supports to the needs of adult literacy programs
take a preliminary look at the use of digital technologies and e-learning in adult literacy programs in relation to the Use Digital Technology Competency of the Ontario Adult Literacy Curriculum Framework (OALCF).