Learn together at the AlphaPlus Educator Network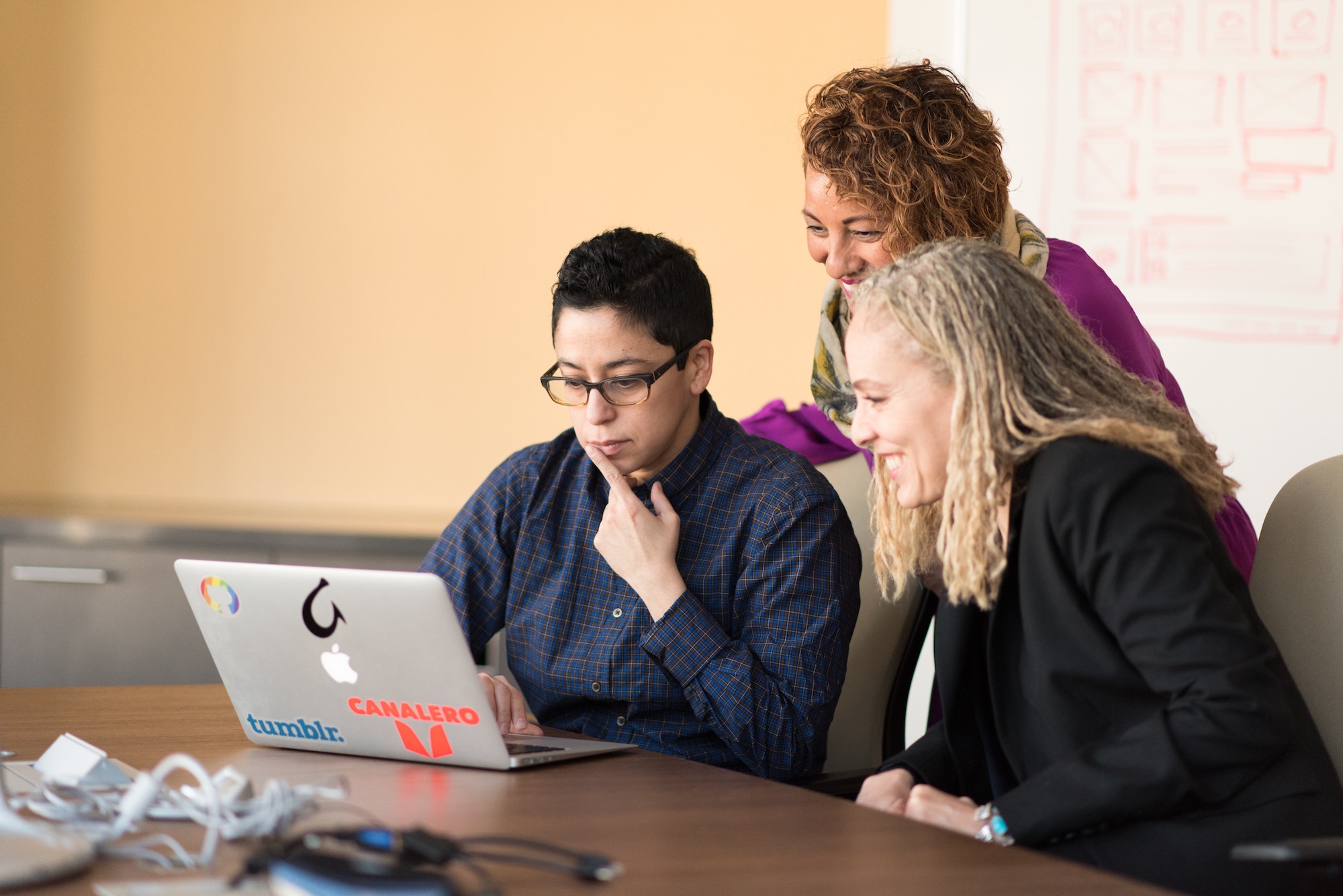 Educator Network Story: Collaborative Professional Learning
How can adult literacy instructors preserve the best elements from last year's pivot to online teaching? The answer may lie in the AlphaPlus Educator Network (eNet).
"Right now, blended learning is top of mind because the pandemic forced many literacy educators to try new approaches and technologies," says Guylaine Vinet from AlphaPlus. Educators who worked primarily offline before the pandemic are now thinking about how to bring some of the best elements of remote learning back with them as they return to the classroom.
Guylaine and her colleague Tracey Mollins facilitate the AlphaPlus Educator Network, a community of practice for adult literacy instructors integrating blended learning. They have noticed that the pandemic has bridged gaps between how learners do things in their daily lives and what happens in a literacy program. "For example, even if learners weren't previously asked to use smartphones in a program, many were using them in everyday life," says Tracey. "A smartphone can be a valuable learning resource and some literacy programs started using them more during the pandemic."
Explore blended learning with your peers in the AlphaPlus Educator Network
Blended learning is central to the work of AlphaPlus; our position paper outlines its value and the reasons we advocate for its adoption in the literacy and basic skills (LBS) sector. The position paper describes a blended learning approach that is an enhancement and extension of the application of adult learning principles: Blended learning is learner-centred, activities are relevant and useful, and with a strong teaching presence, learners build digital skills while learning a core topic.
The approach is the foundation of many AlphaPlus services and is the focus of the Educator Network — a collaborative, supportive space where literacy instructors connect with colleagues from other programs to share new tools, materials and ways of doing things.
Expand your learning network and co-create curriculum
As an Educator Network participant, you will have access to the knowledge and experience of AlphaPlus facilitators as well as a group of colleagues who are working through similar questions and solutions.
A significant benefit of blended learning is the opportunity for instructors to co-create the curriculum with learners. Together, instructors and learners bring a world of information and knowledge into the classroom in accessible formats, such as engaging plain-language text, videos and graphics. AlphaPlus's Educator Network offers participants the opportunity to both explore and experience these curriculum co-creation practices.
Transform your practice and engage learners differently
Former Educator Network participant Shirley Gosselin, an instructor at the Centre de formation de Hearst, describes the transformational experience of adopting a blended learning approach:
"After teaching various courses for more than 20 years and more, I've noticed that I'm not changing my way of doing things too much. However, after learning about blended learning as an Educator Network participant, I now think a lot more before creating modules and teaching the course. I invite learners to participate in helping improve the content and the way the course is delivered. They feel involved, and we work much more as a group. What a difference it made with a few classes!"
As Guylaine says, "Over the last year, programs may have realized that they could be preparing learners differently. Learners are getting used to and expecting an online component, and we can prepare them for the online aspect of any future learning. The good news is you don't have to flip the whole classroom at once. You can start as small — or as big — as you want."
"We're here to provide support: answering your questions, helping you to think through your ideas to make the best decisions and experiment in ways that work for you," adds Tracey.
Are you ready to join the next cohort of AlphaPlus's Educator Network? Registration is now open.
Contact Tracey or Guylaine to find out more.