How proficient are you at using digital workspaces or office suites?
Are you fully leveraging these tools to work with learners?
Are you equipping your learners to use these tools in the future?
We are offering this popular, free training opportunity for adult literacy instructors and tutors again this Fall
WHAT: Six weekly 90-minute digital workspace training sessions. We'll use Google Workspace as a platform to explore and apply digital collaboration skills. Each session will be an opportunity for you to:
Gather with your peers,
Get acquainted with the tools, and;
Explore the possibilities for creating, communicating, collaborating and problem-solving in a digital workspace environment.
WHEN: Wednesdays, 2:30 pm to 4 pm on Oct 11, Oct 18, Oct 25, Nov 1, Nov 8, and Nov 15.
See the training outline for more details about what we'll cover in these free training sessions, as well as the format, timing and deadlines for registration. And don't forget to invite tutors working in your programs.

HOW TO SIGN UP >> Sessions start in October, so secure your spot now
Are you a teacher who enjoys exploring and experimenting with how digital technology can enhance learning in creative ways? Then the Alphaplus Educator Makerspace is for you.
A makerspace is a place where people come together to create or invent things, either using traditional crafts or technology. At the AlphaPlus Educator Makerspace, we combine the craft of teaching with newer technologies to make things that elevate teaching and learning.
Each year we choose a theme and a technology that matches that theme. This year our theme is Empowered Learning and our technology is H5P, an activity creation tool. We will create interactive activities from your favourite resources or you can choose a resource from our Open Education Resources library.
You will attend six 90-minute online workshops at a time that works for our group to
learn to use an activity creation tool
create dynamic activities that provide learners with choice and feedback
learn about how to find, evaluate and adapt Open Education Resources
assess the makerspace experience as a possible practice in your own teaching
Learn more about makerspaces and our plans for the Fall here: The AlphaPlus Educator Makerspace.
Join us starting October 16 to exercise your creativity in a facilitated, collaborative environment.
Here is what participants said about Makerspace 2022:
The stimulation of being in a group of curious, congenial educators/lifelong learners; the access to an excellently curated bank of resources and expert coaching thanks to Guylaine and Tracey; the flexibility of project direction, pacing and final product deadline, which in my case likely made the difference between not finishing and creating something I was happy to share.
The Wayfinder's experience is an ongoing mission, as part of a fun and motley crew, to discover what is important and what is needed in my work with adult learners. The chance to experiment with tools that can make a true difference in my practice. The opportunity to uncover, connect with, and share the stories of our teaching and learning.
It is a guide or a map for processing your understanding, beliefs and ideas about educating and learning. It provides a flexible structure, plenty of resources or tools, and questions that inspire reflection about why you do what you do, and how you do it…..in some ways it is a means to creatively evaluate your own "process" and present it to others.
I'm really grateful for the chance to participate in this program. It has definitely helped me feel less isolated as an educator, and more aware and a part of the professional literacy network across Ontario. Also, viewing this experience as an adult learner, this was one of the few times I have felt fully supported and accommodated in a learning project, based on my own needs, preferences, and life situation, which is hilariously ironic but a big factor in my enjoyment and the quality of my outcomes.
Community Gabfests are Zoom gatherings for literacy educators who want to connect with their peers in an informal setting. Connecting with other educators helps us see our work with fresh eyes, validates our experiences and is a powerful way to renew our energy, purpose, and excitement about our work. Join us as we chat, vent, brainstorm, etc., about this work that we love.
The next Gabfest is on October 19, 2023 from 4:00 p.m. to 6:00 p.m.
The conversation starter is Engaged Learners.
Here are some of our questions:
How do we engage learners?
How do we know when they are engaged?
How does learner engagement inform our practice
How can technology help?
What are your questions?
At the last Gabfest we talked about using learner engagement to direct our curriculum design and pedagogical approach. We thought it might be interesting to delve into this idea and highlight some of the ways how teachers / instructors / facilitators act as researchers and how this research informs and enhances our practice.
We plan to follow this up in November with a gabfest about the games and activities learners love. We will be asking you to share your best ideas for keeping learners engaged by building community and having fun together.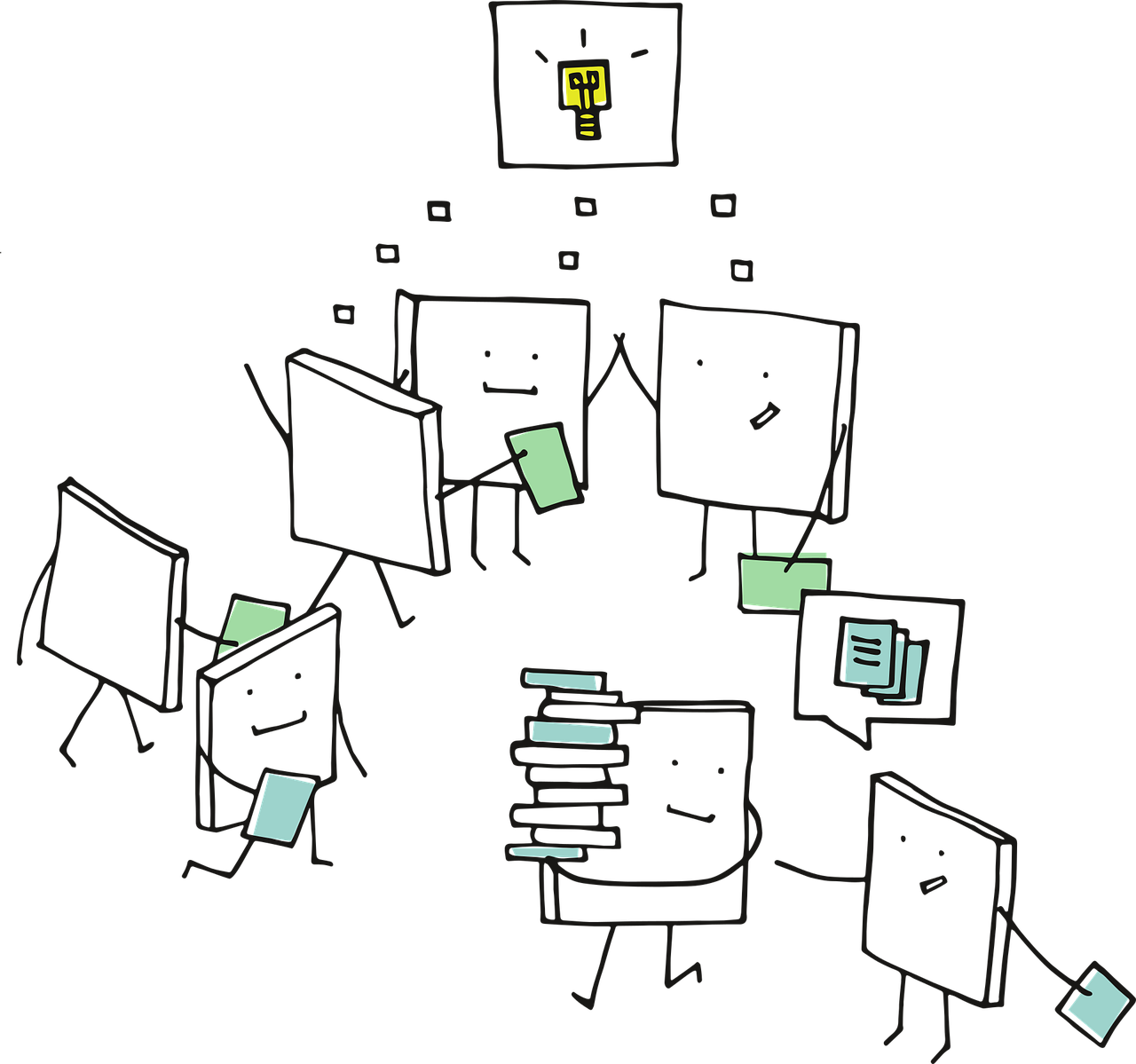 Future Gabfests – save the dates:
October 19, 2023: Engaged Learners
November 16, 2023: Engaging Games
December 14, 2023: Professional Learning
Past Gabfests – see what happened:
September 27, 2022 : Learner Agency
October 27, 2022 : Warm ups and Motivation
November 24, 2022 : Learner Identity
January 12, 2023: Blended Learning Aspirations
February 9, 2023: The Best Program
March 9, 2023: The Personal Web
April 13, 2023: Digital Justice
May 11, 2023: Resources we love
June 15, 2023: ChatGPT
September 21, 2023: Emergent Curriculum (link to come)
Thanks for a wonderful year as we piloted this new program: Real talk as Community Gabfest pilot continues
Here is what participants say happens at a Community Gabfest:
Lots of opportunity for discussion.
Others sharing their best practices
Learning about what other programs are doing to increase learner engagement.
To know that others experience the same challenges that we do. Sharing ways to enhance our programming; sharing ideas to help solve problems
Meeting new people from the literacy field and learning about their ideas.
Going into different breakout rooms and meeting different practitioners.
Connecting with others in small groups
And here are some of the ways participants describe the Community Gabfests:
The Community Gabfest gives everyone an opportunity to share, to learn and to discuss. We are guided by seasoned adult literacy professionals.
It is great to meet, share, discuss ideas, and best practices.
An avenue to share techniques and strategies that are working in our programs. A forum to learn together about best practices, challenges, and possibilities.
It was a place where people could share their ideas, issues and challenges and share solutions too if needed. You also got the chance to meet people that were outside of your immediate region and you had the opportunity to expand your network in the space. There are also of really great people and agencies out there doing really great work for the community. It was nice to see just beyond your own agency or region.
It was nice to learn about different experiences from literacy practitioners. The environment was safe and cordial to talk about your experiences with learners.
We got to meet different literacy practitioners on Zoom and talk about what we do, resources, and learn from each other. It was a really relaxed environment and we wouldn't normally get to do this in-person. This was a great alternative.
We are thrilled to once again host AlphaPlus Virtual Showcases in 2023!
Join us for a series of four facilitated discussions, featuring guests representing community-based, school board and college programs, who will demonstrate how they are using digital technology and blended learning to create interesting and innovative learning spaces/programs/offerings for learners.
ASL interpretation services will be provided.
FALL
Session 3: Using texting to engage with learners
Tuesday, Oct 24, 2023, 1:30 to 3 pm
REGISTER
Session 4: Using smartphones with learners
Tuesday, Nov 28, 2023 1:30 to 3 pm
REGISTER
SPRING
Session 1: Using OneNote to manage learner files and other resources
Delivered on Tuesday, May 23, 2023, 1:30 to 3 pm
Session 2: Using social media to reach, teach and connect with learners
Delivered on Tuesday, June 20, 2023, 1:30 to 3 pm
Want to suggest a topic or be a presenter? Click here to share your ideas with us.
Check out the past sessions section of the website for presentations, recordings, additional tips and resources shared by guest presenters.
Do you want to build a library of digital tools to enrich the learning environment you are creating?
The Planning Your Digital Toolbox course will help you figure out what tools to use, when to use them and how to use them as you develop a blended learning approach that works best for you and the learners you work with.
This course is six self-directed reflective-practice modules that you can work through at your own pace.
Learn more about the course here: Planning your Digital Toolbox
Contact Tracey to sign up, ask questions or receive the course syllabus.
Are you taking advantage of the many ways Microsoft tools can support and enhance your adult literacy program? Go beyond Word and PowerPoint to access a powerful suite of tools that will help you to:
Communicate and collaborate with learners.
Bring innovative approaches to your teaching.
Collect and manage data.
Streamline your work and efficiency.
Building on the success of the Google Workspace training we've been offering since January, AlphaPlus is pleased to announce a new training opportunity: Building digital skills with Microsoft 365. This expands our training suite for Ontario's adult literacy instructors and tutors who want to build confidence in working with online collaboration tools.
About the Building digital skills with Microsoft 365 training series
This free new training consists of eight synchronous and interactive 90-minute online sessions on using Microsoft 365 as a platform to explore and apply digital collaboration skills. We're offering two cohorts of up to 20 participants (one afternoon and one evening option). See the training overview for more details about what we'll cover, the format, timing and deadlines for registration.
The training series starts on September 26 (afternoon sessions) and September 27 (evening sessions).
This might be the only time we offer this training. So if you're interested, secure your spot. And don't forget to invite tutors working in your programs!
There is so much more to Microsoft 365 than documents and presentations, and we'd love to help you tap into the potential of these tools. We hope to see you at the training!
Tracey, Monika, and Alan
AlphaPlus
This year, I've been reaching out to literacy and basic skills (LBS) educators to gather front-line perspectives on technology integration, mainly through the lens of lesson planning and teaching practices. It's clear that the field has shifted from emergency remote delivery and is now steeped in fresh insights, approaches, lessons learned and a desire to collaborate — that's where our new Skills for Success project and the opportunity to co-create planning tools and curricular supports comes in! We've given you glimpses of this project in Alan's January message and when the team introduced me in March. Today, as we wrap up the consultation phase of this work and get ready to move into the next phase, I'm reporting back on some key findings and project directions.
Key themes that emerged from speaking with educators
Through focus groups and one-on-one conversations, I've spoken with 23 adult literacy educators and nine program administrators from local programs and school boards in Ontario. Your peers — whether they're back in the classroom, teaching online or using a hybrid model — are looking for creative ways to incorporate meaningful technology into their sessions, based on an understanding of the engaging flow of activities that makes a good lesson and organically hones skills that adult learners bring.
We're hearing that many of you would welcome planning routines that are pedagogically sound, thoughtful and deliberate ­— that consider variability in the learners, in their devices or digital access and in their needs. Educators want planning templates and routines that are modifiable, grab-and-go, easy to reuse, complement a predictable lesson flow and are focused on relevant, practical topics.
Several additional themes emerged from our conversations, including the following:
Learners are becoming more aware of technology tools, features and options.
Educators' comfort levels with teaching and technology vary.
Collaboration and sharing between educators are less robust post-pandemic because they are not in the same location as frequently.
We need to be aware of our learners' needs and how they function in digital spaces outside class.
Post-pandemic, the shifts in our practices can now be driven by creativity and collaboration (rather than an urgent response).
Materials to help integrate technology into a lesson flow for learning
As we move into the next phase of co-designing materials, we know that we need to consider learners' needs, differentiated instruction principles and the variety of group dynamics within a session (online or face to face). The co-designed lesson-planning companion resources that will be created, therefore, can't be prescriptive, but would make engagement through digital integration that enhances learning and self-direction a key focus. Curriculum in the form of workbooks, open educational resources (OER) and modules are already out there — you've indicated that you need resources that guide decisions about effectively planning lessons that have an impact.
We also want to highlight existing AlphaPlus supports that can meet some of the needs you've identified. For example:
Next step: Co-creating a blended-learning lesson-planning flow
We're now ready to start building a new product: a blended learning flow that addresses technology integration, thinking routines, lesson planning and stages, engagement strategies, collaboration, reflection and problem-solving. We're now assembling a small working group that will finalize our initial concept and co-create the product, drawing from their experience with what's exciting about engaging lessons.
AlphaPlus will contribute expertise (for example, on blended learning, pedagogical models and existing research), participate in co-creation, facilitate the process in the lesson planning stage and provide an online platform for the materials that are designed. This co-creation process will be beneficial and instructive for our field — it's an opportunity to learn from each other in thinking about our planning routines and how they strengthen blended learning.
Thank you to everyone who has contributed to this project so far. If you'd like more information or are interested in participating in the paid working group, please email me at olga@alphaplus.ca.
Take advantage of our FREE, customized digital technology support
Are you looking for ideas, guidance or tips when it comes to using or implementing digital technology in your program?
Our coaching team can help you and your team quickly identify technologies and tools that suit your unique needs and can help programs improve administrative processes while keeping in touch with learners. We will work with you to identify your specific expectations and build a work/training plan that will work with your and your team's schedule.
"The support we received from AlphaPlus has enabled our small organization to manage most of our own digital needs without needing to find money to pay outside organizations or contractors. From email migration, to website, to Google Classroom and Workspace, no ground has gone untouched, and we are forever grateful!

I highly recommend this coaching program to any organization who wants to be more efficient and have more control and confidence in their digital spaces!" – 2022/2023 coaching participant
No question is too big or too small! Our coaching engagements can be quick and short (one or two meetings or training sessions) or we can work with you throughout the entire fiscal year to help you explore tools and ideas that fit your specific needs.
Our coaching team can help you:
Adopt blended learning approaches and use digital technology resources to enhance the education experience.
Improve technology use to simplify and streamline administrative tasks.
Improve the integration of technology in teaching and assessment practices.
Identify short-term digital technology goals that you can achieve this year.
Plan for longer-term goals that can be achieved in stages.
We look forward to hearing from you! Simply reach out to
to let us know how we might be able to help.
Learn more
The Educator Network Applying the Google Toolbox program is a series reflective-practice workshops for people who participated in the Building Digital Skills with Google workshops. We take a deeper dive into the features and functions that you think are most relevant to your practice and support each other as we apply these new possibilities by co-creating activities and lessons.
Our first check in and planning sessions are on May 16 (2:30 – 4:00) and 17 (6:30-8:00). If you participated in one of the Winter 2023 Introduction to the Google Workspace and Google Applied Skills series, contact Tracey to find our more.
Here is what we have planned for our opening discussion:
Learn how programs use OneNote to manage learner files and explore how social media can help you reach, teach and connect with learners.
Finding practical, innovative ways and digital tools to effectively manage learner files, or to reach and engage with new and existing learners can be difficult. In fact, it's often the most common frustration we hear about from our coaching clients.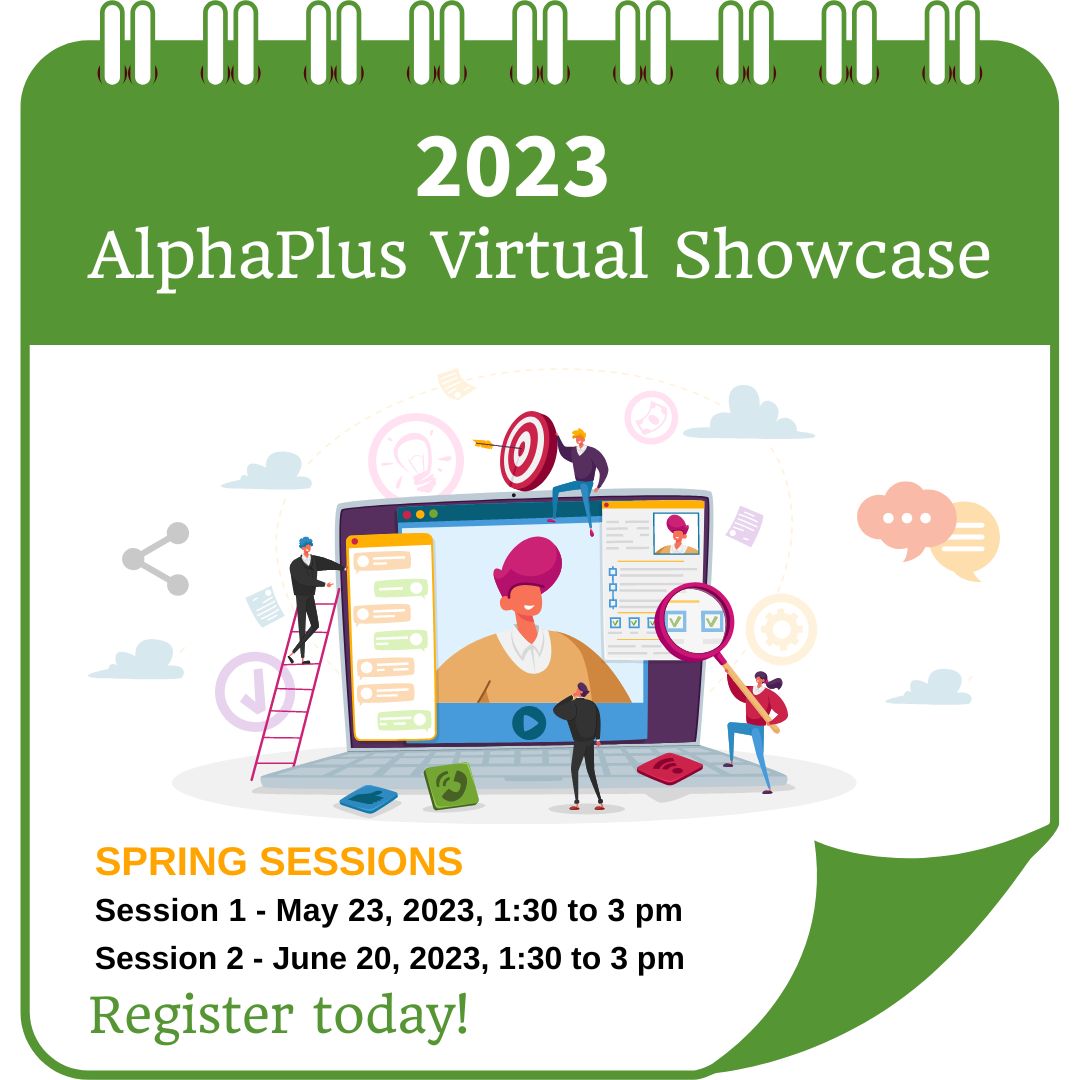 That's why we decided to cover these topics in our Spring 2023 showcases.
We invite you to join us in May and June for 1.5 hrs AlphaPlus Virtual Showcases to hear how our guests are tackling these issues and see examples they will share.
ASL interpretation will be provided.
You will have a chance to ask questions and leave the sessions inspired with practical tips and resources you can use at your own program.
Session 1: Using OneNote to manage learner files and other resources
Tuesday, May 23, 2023, 1:30 to 3 pm
REGISTER

Session 2: Using social media to reach, teach and connect with learners
Tuesday, June 20, 2023, 1:30 to 3 pm
REGISTER
We will also host two showcases in the Fall.
Session 3: Topic TBD – Tuesday, Oct 24, 2023, 1:30 to 3 pm
Session 4: Topic TBD – Tuesday, Nov 21, 2023 1:30 to 3 pm
Act now! Register and save the Fall dates today!
"I found that the speakers had great tools to use and that the sharing of those tools was great! There is a vast amount of knowledge out there and to be able to listen to how people are using the various apps/tools was very informative. Knowing the different organizations that are working with this kind of education to help individuals and having the ability to connect with them is great!"
"This has motivated us to use the different apps and learn how useful it will be for our learners."
"So many apps for so many clients! Awesome! Will research accessibility apps for sure!"
Want to suggest a topic or be a presenter? Click here to share your ideas with us.
Check out the past sessions section of the website for presentations, recordings, additional tips and resources shared by guest presenters.
Don't delay! Register today!
Questions? Contact Monika at monika@alphaplus.ca